SOLYMAR BEACH RESORT
Cancun, Mexico – 294 ROOMS
The Solymar Cancun provides an excellent beachfront option for those traveling on a budget. Located on one of the best beaches in Cancun, the Solymar offers 294 rooms, bars and a restaurant. The energy flows throughout the day with daily poolside activities including volleyball, contests and games. At night, a dollar bus ride gets you to Cancun's many bars, restaurants and nightclubs.
Enjoyable Amenities, Comforts and Picturesque Views at the Solymar Beach Resort
The Solymar Beach Resort is one of the most relaxing all-inclusive resorts you can come across while hunting for the perfect spring break accommodations in Cancun. It is the ideal option for students traveling on a budget to still enjoy almost 300 beautiful rooms, enjoyable seaside adventures and an energetic week of fun and games at the beach.
Comfortable Amenities and the Best Foods and Drinks
While staying at the all-inclusive Solymar Beach Resort, you can enjoy one of the best beaches in Cancun and a comfortable room decorated in an welcoming, casual and colorful style. Amenities include double beds, a view of the gardens and pool and a private bed in every room. Cocktails and snacks are available all day at the beach bar or the El Isleno poolside bar, and you can eat buffet at breakfast, lunch and dinner at the La Isla Restaurant. For those looking for a dynamic vacation, there are two swimming pools, both equipped with poolside bars, and guests can enjoy an engaging day with sporting events, contests and access to local nightclubs.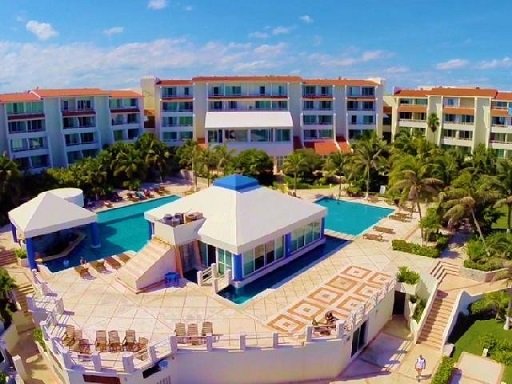 Two swimming pools with poolside bars
All you can eat buffet for breakfast, lunch and dinner. Cocktail and snacks throughout the day. Drinks include open domestic bar.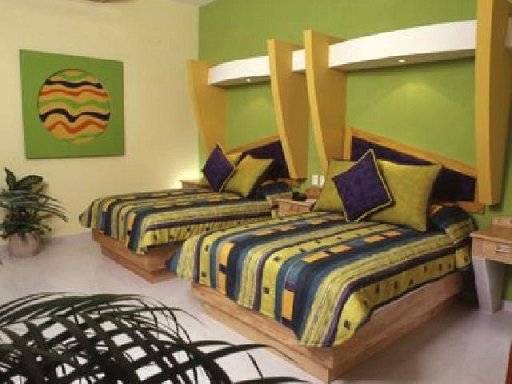 Standard
Very comfortable rooms with a unique and casual style. Each room offers 2 double beds, private bath and view of the beautiful gardens and swimming pool.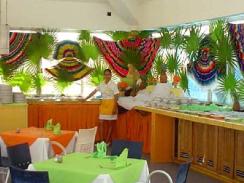 La Isla Restaurant
Buffet
The La Isla Restaurant provides picturesques views overlooking the ocean. Serving breakfast, lunch and dinner, diners have the option of ordering a la carte or enjoying the buffets. Open daily from 7am – 11pm.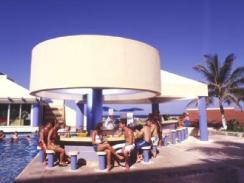 El Isleno Bar
Bar
Located next to the pool and offers a wide selection of drink options. Open 9:00am – 11:00pm.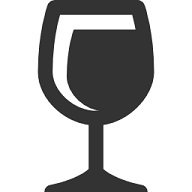 Beach Bar and Grill
Bar
Open 9am – 5pm, the Beach Bar and Grill provides an open air casual atmosphere.