KRYSTAL CANCUN
Cancun, Mexico – 453 ROOMS
Krystal Cancun awaits you with beautiful rooms and stunning views of the Caribbean Sea. Its breathtaking sunsets, great location make it perfect for Spring Break vacations. You can enjoy the panoramic infinity style pool & Jacuzzi, take a break in the Bali day beds, or party one the beaches. With three a la carte restaurants, a lobby bar with billiard tables, and a poolside bar with fun swing seats, guests have their many choices right on the property.
All-Inclusive Benefits and Amenities Available at the Krystal Cancun Spring Break Resort
Stunning views of the Caribbean, access to the smoothest beaches in the area and beautifully decorated rooms are only a few of the benefits that await visitors seeking to spend their spring break vacation at the Krystal Cancun this year. Three a la carte restaurants, a stunning infinity-style pool and several bars where you can enjoy your favorite drinks are also available among many other benefits and amenities.
High Quality Amenities and A La Carte Restaurants
Krystal is a beautiful all-inclusive beachfront resort ideal for tourists seeking to spend their spring break vacations in Cancun. The accommodations include deluxe guest rooms with king size or double beds, access to a panoramic swimming pool and Jacuzzi and amenities such as a fitness center, beach club, Bali style day beds and concierge service. Three restaurants are available on the premises: the Hacienda El Mortero, Las Velas and Aquamarina. The resort also offers complete access to a poolside bar with swing seats, the comprehensive Bulldog Cafe nightclub and an additional lobby bar complete with billiard tables.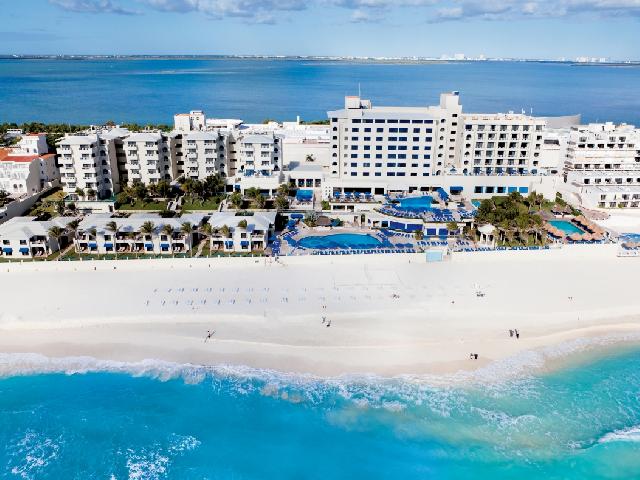 Beach Club
Sun Deck with Bali style day beds
Tour Desk & Concierge
Beachfront infinity Jacuzzi
Swimming Pool
Gift Shop
PLANS OFFERED
All Inclusive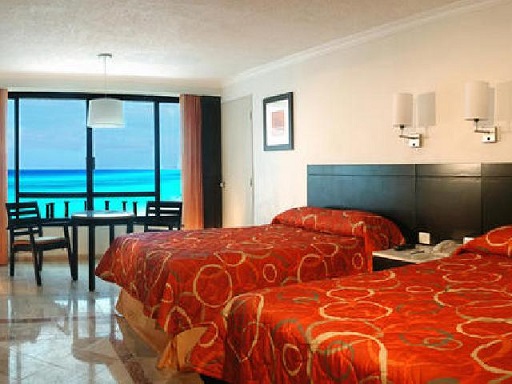 Deluxe Guestroom
With floor to ceiling windows offering panoramic views of either the Caribbean Sea or Cancun Blvd., there is nothing "standard" about these hotel rooms. Choice of king bed or two double beds.
Mini Bar
Electronic safety deposit box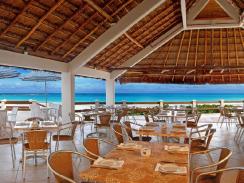 Las Velas
A la Carte
Situated beachfront, Las Velas Restaurant allows you to enjoy snacks and delicious surf and turf specialties, while experiencing an amazing view of the Caribbean Sea. Open from 11:00 a.m. to 5:00 p.m. Buffet & a la Carte – reservation not required.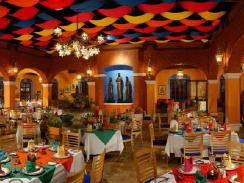 Hacienda El Mortero
A la Carte
This is the place to relive the charm of old Mexico in an authentic hacienda-style restaurant with gourmet Mexican fare at its best, while being accompanied by the soulful serenades of the mariachi. Open from 6:00 p.m. to 11:00 p.m. Reservations required. Dress code: casual elegant (slacks required for men).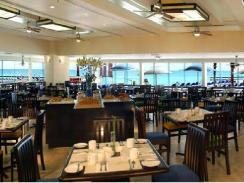 Aquamarina Restaurant
A la Carte
The setting at Aquamarina is almost as good as the food. For a delicious variety of local and international dishes served in an air-conditioned area overlooking the pool, Aquamarina is where it's at. Breakfast Buffet/Lunch and Dinner A la Carte – reservation not required. Open 7:00 am to 11:00 pm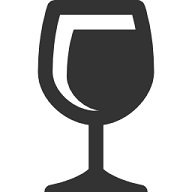 Bulldog Cafe Nightclub
Discotheque
Backed by the experience of the world famous Bulldog Café in Mexico City, the club offers a place where the latest technology in sound and light systems, special effects, live shows, and staff entertainment are featured.
Every night the Bulldog Café surprises guests with innovative shows and the latest music, such as rock, hip-hop, pop alternative, salsa. and the international top 10, until sunrise. To top it off, an exotic "Rock & Roll Jacuzzi" will be available to the more untamed clientele! Operational days.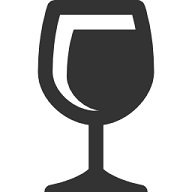 Wet Bar
Swim-up pool bar
Swim up to enjoy tasty tropical drinks. Open from 11:00 a.m. to 5:00 p.m.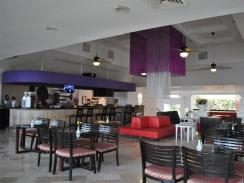 Lobby Bar
Bar
The place to start your evening with your favorite drink. Open from 10:00 a.m. to Midnight