GRAND OASIS CANCUN
Cancun, Mexico – 1024 ROOMS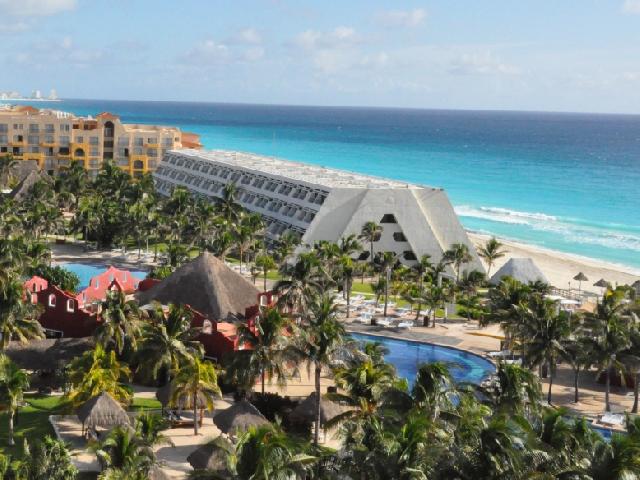 Grand Oasis Cancun
Spring Break at the Grand Oasis Cancun….The Grand Oasis Cancun loves fun, do you? With over 50 entertainers, this all-inclusive resort features non-stop entertainment and fun. During Spring Break at the Oasis, the Dance U comes to life hosting live concerts, international DJ's shows and themed parties. It is so much fun to meet people during Spring Break. At the Grand Oasis Cancun you will meet and party with Spring Breakers from colleges located all over the US and Canada.
Party at One of the Largest Pools in Mexico. Cancun's largest pool is surrounded by 5 pyramid structures with over 1,100 rooms. All rooms offer either a terrace or balcony, air conditioning, TV, a mini bar that is stocked daily and optional safety deposit box. This 1/4 mile long pool is one of the many hot spots in this enormous resort. With two fully stocked swim-up bars and live DJ's, the poolside dancing and contests will keep fully immersed in the Spring Break scene.
If eating is your thing, you will enjoy the variety of 10 restaurants and 10 bars. The sports bar is alive with all of the current sport events on TV. Coyote Loco cranks up at 10:30 featuring nightly themes. A lot of spring breakers arrive equipped with large containers as the resort staff with fill up just about anything you hand them! Whether you are a beach bum or prefer the pool, at the Oasis Cancun Lite, you will be surrounded by bars, spring breakers and entertainment.
Whether you are a beach bum or prefer the pool, at the Oasis Cancun Lite, you will be surrounded by bars, spring breakers and entertainment.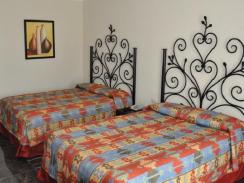 Standard
The Oasis Cancun Lite offers brightly decorated hotel rooms with beautiful views of the Caribbean, gardens or lagoon. All provide easy access to the expansive restaurants, bars and facilities. Each room features 2 double or 1 king bed. Note: The Oasis does not guarantee quad bedding.
Alarm Clock/ Radio
Safe Deposit Box (Daily Charge)
Cable TV
AMENITIES
Kin-ha Spa
9 hole executive course
Laundry Services (extra charge)
24 hour doctor
Over 650 Yards or White Sand Beach
Two Illuminated Tennis Courts
Large Pool Area
Water Sports Center and Marina
Sauna & Jacuzzi
Executive (Par 3) 9 Hole Golf Course
Health Club/Gym
PLANS OFFERED
Spring Break All-Inclusive
With your choice of 10 restaurants and 8 bars your options are limitless. Unlimited food and drink (domestic liquor), House wine, Aside from quality Mexican, Asian, Italian and other varieties of international cuisine, as well as fine beverages, friendly service and live music bands playing, guests of the resort can also enjoy themed parties, comedy shows, events and daily poolside contests. All resort fitness and recreation facilities, All resort activities and entertainments, Non-motorized watersports at marina, and Green fees at 9-hole golf course are included.
INCLUDES
Entertainment
Water Sports
Theme Parties
Tennis and Golf
All Drinks
All Meals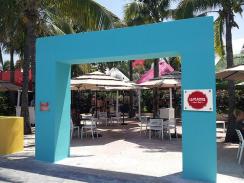 La Placita
Snack Bar
For those looking for a fun quick answer to their hunger. La Placita features three different snack bars that appeal to all appetites. Mr Wimpy, Happy Chicken and Tortas & Tacos. These tasty snack options are available through out the day. Lunch from 11am – 5pm and Dinner from 6pm – 10pm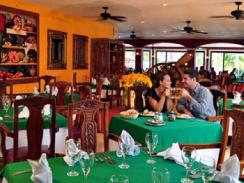 Hacienda Sarape
Mexican
This tex-mex style restaurant brings you delightful traditional cuisine from Southern USA and Mexico, focusing mainly on dishes based on pork, beef, cheese, beans and spices, and including chili con carne and tortillas prepared according to traditional Mexican recipes.
Sarape features colorful traditional decorations, ensuring a perfect dining experience with your friends. Lunch 12:30 p.m. – 4:00 p.m. Tex-Mex, Fast Food & Sandwiches Dinner 6:00 p.m. – 10:00 p.m. Mexican Specialties featuring Live Mexican music.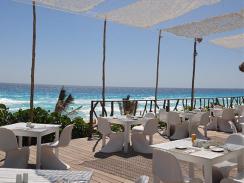 Ibiza Restaurante
Snack Bar
Ibiza Restaurant is a unique restaurant frequented by Spring Breakers where you have plenty of open air, and there's always a cheerful disposition. The place is clean and combines modern decor and amenities with a picturesque Mediterranean theme that makes the gourmet snacks all the more enjoyable.
The location of the restaurant also makes it a beautiful place to take pictures. The relaxed atmosphere and splendid seaside view are ideal for a laid back dinner. Ibiza Restaurant is open from 11 AM to 5PM.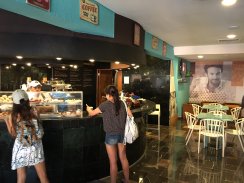 Coffee and You
Bar
Starting early in the morning take your choice of a morning cup of java or a little hair of the dog. Coffee & You is the Spring Breakers choice for the quick pick me up. Open 7:00AM – 10:00PM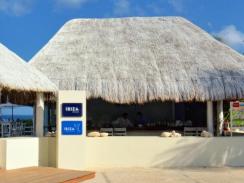 Ibiza Bar
Bar
Overlooking the Ibiza Beach Club and Spring Break party stage. The Ibiza Bar offers the perfect vantage point to see all the Spring Break at the Oasis has to offer. For those poolside, the Ibiza is close enough to accommodate your poolside refreshment needs.
Open 11am – 5:00pm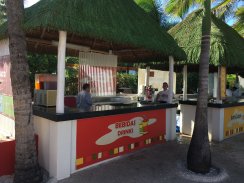 La Placita
Bar
La Placita is a casual bar that provides a nice break from the sun or a casual afternoon cocktail
Open 11am – 10:00pm
Dance U
The Dance U is a month long Spring Break music festival at the Oasis Cancun Lite that features daily music. Headliners for Spring Break '2018 have been announced with Carnage March 3, R3HAB March 10, Afrojack March 17 and Oliver Heldens March 24. With past performers have included the likes of Lil Jon, Cash Cash, Trey Songz, Afrojack, Snoop Dog, DJ Legacy, Sunnie Dae and Kid Ink, you will not run out of entertainment. From the clubs to the pool to the beach, you will see talent from all over the world. Be prepared to dance all week.
Student/Youth Policy:
Minimum age requirement for hotel check-in is 18 years old. Any hotel guests under 18 years will require a chaperone(s). One chaperone is required per 1-19 students/ youths under 18 years. The minimum age requirement for a chaperone is 23 years old. Please note the legal drinking age in Mexico is 18 years.
Hotel Does Not Guarantee Quad Bedding